Augmented Reality for the industry

Augmented Reality (AR) has become part of everyday life of companies. Every day, new applications arise for the perception or depiction of reality enriched by virtual perspectives. Especially in the three main areas of application, such as maintenance, operation and training, AR has proven to be valuable.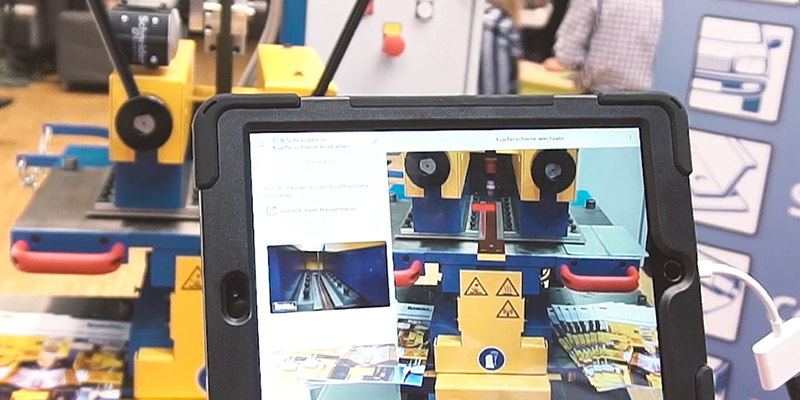 Whether for maintenance or service purposes, for training or operational applications or to support sales presentations: In industry, AR is becoming an indispensable component of daily work in more and more application areas. As leading service supplier in the technical documentation, we transfer your product and system documentation to the level of the future – in the Augmented Reality.
Optimising processes in industry with Augmented Reality solutions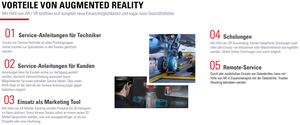 Augmented Reality technology bridges the virtual world and the real world. In industrial applications, digital images or texts are used to integrate in real time the necessary information for specific tasks into real-world images captured currently. Thus, for example, data, images and instructions for parts, components or complete machines can be superimposed in the visual field to assist a technician with maintenance or repair work.
The visual support of R helps to optimise many processes in industry. Whether during operation, for training, education and upskilling purposes, to facilitate maintenance and repair processes or for customer support and service: In cooperation with our technology partner RE'FLEKT, we develop customised AR solutions for your specific application. In addition to our headquarters in Karlsruhe, we are available for you throughout Germany thanks to our decentralised structure.
Augmented Reality concepts for mechanical and plant engineering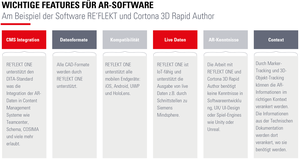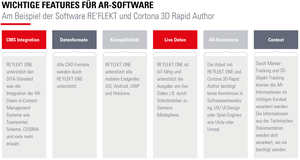 The use of computer-aided enhancement of perception is no longer limited to a few branches: Augmented Reality applications have conquered the entire industrial sector. Whether it is the automotive, aviation, medicine technology or mechanical and plant engineering, there are hardly any branches of industry, which do not use augmented reality technology.
In mechanical and plant engineering, as in many other sectors, the AR possibilities are especially used in the field of maintenance, i.e. for the repair or servicing of machines. The technician is supported by augmented instructions in his field of vision and, for example, has direct access to existing problem solutions. Thanks to AR solutions, remote maintenance services can also be implemented effectively and in a timesaving manner in many industry sectors.
Thanks to AR, working with confusingly long user documentation is no longer necessary, and this not only in the field of maintenance. In the area of training and upskilling, subjects can be taught more efficiently and sustainably by means of augmented reality applications. By enhancing perception with useful information according to the situation, even complex learning contents, for example on new installations, can be directly experienced by the participants, which significantly increases the success of the knowledge transfer process. reinisch GmbH is also at your side for the conception and implementation of training and upskilling applications based on AR technology as a proven training partner for the industry.
Our services for you
We offer you customised support for the realisation of your AR projects. Please feel free to contact us!
We recommend the bundles of our partner RE'FLEKT
in our download area.